PureSpelt one-pot broccoli pasta
Preparation time: approx. 30 minutes
Baking or cooking time: approx. 15 minutes
To serve four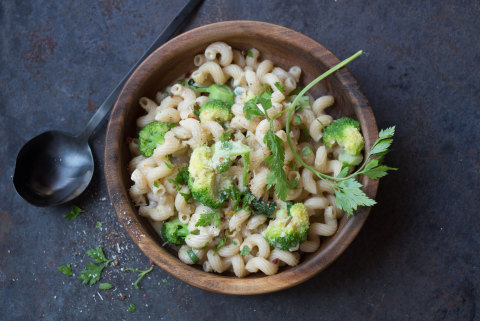 Approx. 1 l of vegetable stock
2 tablespoons of rapeseed oil
250 g of PureSpelt pasta, e.g. Amori
400 g of broccoli florets
4 cloves of garlic, sliced
180 g of crème fraiche
150 g of Sbrinz cheese, grated
Salt, pepper
1/2 bunch of parsley, chopped with a little retained for decoration
A little pink pepper
1
Bring the vegetable stock to the boil. Add the oil, pasta, broccoli and garlic; cook for 8 to 10 minutes until aldente in accordance with the instructions on the packet, stirring several times during this time. If necessary, top up with a little hot vegetable stock.
2
Remove the pan from the hotplate; the bouillon should be almost completely boiled down, otherwise pour off a little liquid. Mix in the crème fraiche and about 75 g of Sbrinz cheese, season to taste. Spread the broccoli pasta evenly in preheated bowls, garnish with the remaining cheese, parsley and pepper.
Suggestions
Use other vegetables depending on the season.
Make sure that the cooking time of the vegetables is the same as that of the pasta. Otherwise cut the vegetables smaller or fry or blanch them first.
Source:
IG Dinkel, Judith Gmür-Stalder