PureSpelt cauliflower flatbread
Preliminary time: approx. 4 hours
Preparation time: approx. 45 minutes
Baking or cooking time: approx. 20 minutes
To serve four, 8 flatbreads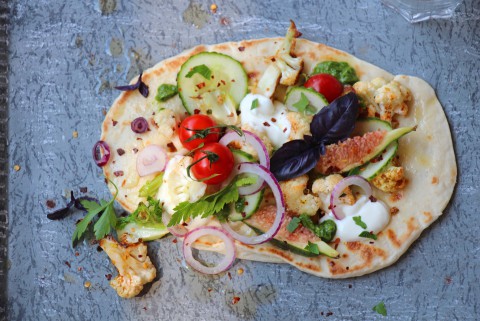 Dough
400 g of PureSpelt semi-white or bread flour (Ruchmehl)
1 1/3 teaspoons of salt
2 teaspoons of sugar
5-10 g of yeast, crumbled
1 dl of milk
Approx. 1 dl of water
40 g of butter, cut into pieces
50 g of natural yoghurt

2-3 tablespoons of butter
2 cloves of garlic, pressed
Topping/filling
Approx. 600 g of cauliflower, with leaves as desired, divided into florets
1-2 tablespoons of frying butter or rape seed oil
2-3 cloves of garlic, pressed
Salt, pepper
Curry powder, paprika
Cumin
Approx. 360 g of natural yoghurt
1/2 cucumber, sliced
1-2 handfuls of cherry tomatoes, halved
1 red onion, cut into rings
2-3 figs, cut into slices
Flat-leaf parsley and violet basil, according to taste
A little parsley oil or pesto
1
For the dough, mix together the flour, salt and sugar. Add the yeast, milk, water, butter and yoghurt to the flour and knead briefly to form a soft, smooth dough. Cover the yeast dough and leave it to rise for 3-4 hours at room temperature or 1 hour at room temperature and overnight in the refrigerator until it has doubled in volume. Punch down or fold several times during this period.
2
Cut the dough into 8 equal pieces, roll each out to form an oval of approx. 15 x 25 cm and bake briefly in portions on both sides in a hot frying pan without fat. Take out and keep warm. Heat the butter and garlic briefly, spread on the pancake before topping.
3
For the topping or filling, fry the cauliflower and garlic in the cooking butter, season and continue frying until just tender.
4
Shortly before serving, cover each flatbread with the cauliflower and the remaining ingredients, roll up as desired and enjoy fresh.
Source:
IG Dinkel, Judith Gmür-Stalder