PureSpelt Vegan Empanadas
Preliminary time: approx. 1 hour in the fridge
Preparation time: approx. 45 min
Baking or cooking time: approx. 20 min
makes 18-20, with a 12 cm round cutter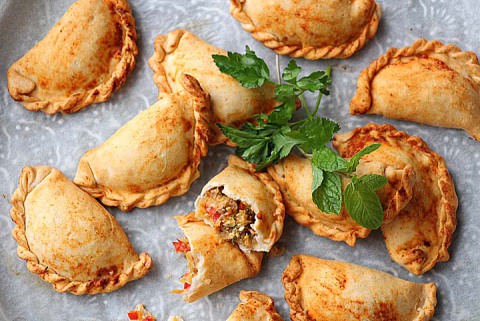 Dough
350 g PureSpelt half-white or white flour
1/2 tsp baking powder
1 tsp salt
100 g unrefined (nativ) coconut oil, or margarine
1 tbsp apple cider vinegar
approx. 125 ml water, cold
Filling
1 clove garlic, minced
1 red onion, chopped
1 tbsp rapeseed oil
1 small red pepper, minced
1 chili pepper, deseeded and chopped (optional)
100 g carrot, finely grated
50 g orange lentils
150-200 ml vegetable stock
3 tbsp ground almonds
2 tbsp almond or peanut butter
salt, pepper, paprika
1 handful herbs, eg. parsley, coriander, peppermint, finely chopped
Glaze
2 tbsp rapeseed oil, 1 tbsp water
pinch Fleur de Sel, 1/4 tsp smoked paprika
1
Dough: Mix the flour, baking powder and salt. Rub in the coconut oil until the mixture is crumbly. Add the vinegar and water and gather into a dough. Cover and let rest for 30-60 minutes in the fridge.
2
Filling: Fry the garlic and onion in the oil. Add the peppers and carrots and fry until soft. Add the lentils, then the vegetable stock and bring to a boil. Let boil for about 20-25 minutes or until all the liquid has dissolved. Let cool, then stir in the other filling ingredients.
3
Forming: Using a little flour, roll the dough to 2-3 mm thick. Using a round form, cut out circles and brush with water. Add the filling, form the Empanadas, and place them on a parchment-lined baking sheet. Place in the fridge to cool.
4
Glaze: Mix together the oil, water, Fleur de Sel and paprika and brush over the Empanadas. Bake for 15-20 minutes, until crispy, in the middle of an oven preheated to 200 °C. Remove from oven and serve hot, lukewarm, or cold.
Tips
Butter can also be used in the dough.
According to taste, tomato, vegetable or herb sauces can be served with the Empanadas.
Empanadas are delicious cold or warm. They are easy to pack and travel well.
Empanadas can be frozen, then defrosted in batches and briefly re-heated.
Other seasonal vegetables can be used for the filling.
Source:
IG Dinkel, Judith Gmür-Stalder