PureSpelt Vegetable Quiche
Preliminary time: around 2 hours chilling time
Preparation time: around 45 minutes
Baking or cooking time: around 35 minutes
a 26-28 cm round pan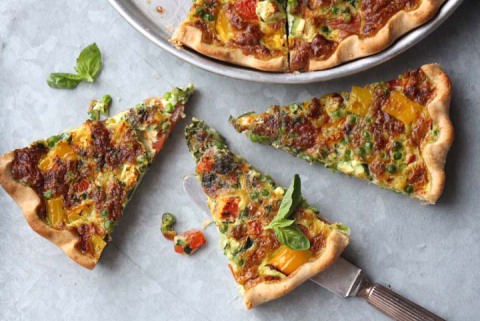 Dough
250 g PureSpelt half white or dark flour (Ruchmehl)
1/2 tsp salt
100 g butter, cold, cubed
1 tbsp apple cider vinegar
around 75 ml water, cold
Topping
3 tbsp Gruyère cheese, grated
around 600 g mixed summer vegetables, e.g. zucchini, peppers, tomatoes, peas, in small pieces
Custard
3 eggs
100 ml milk
100 ml cream
1/2 bunch basil
salt, pepper

Basil to garnish
1
Dough: Mix the flour and salt, then rub in the butter until you get fine crumbs. Stir in the vinegar and water, mixing just until you have a dough. Cover and let rest in the fridge 1-2 hours or overnight.
Once it has rested, using a little flour, roll out the dough to the shape of the pan, place in the pan, and prick the bottom all over with a fork.
2
Topping: Sprinkle the cheese over the base, and top with the vegetables.
3
Custard: Mix all the ingredients well, then pour over the vegetables.
4
To bake: Place a baking sheet in the bottom of the oven and preheat this, and the oven, to 200 °C. Place the quiche on the preheated baking sheet and bake for 30-35 minutes. Remove from the oven, slice into pieces, garnish, and serve.
Source:
IG Dinkel, Judith Gmür-Stalder