PureSpelt Cauliflower Amori (Pasta)
Preparation time: ca. 30 Minuten
Serves 4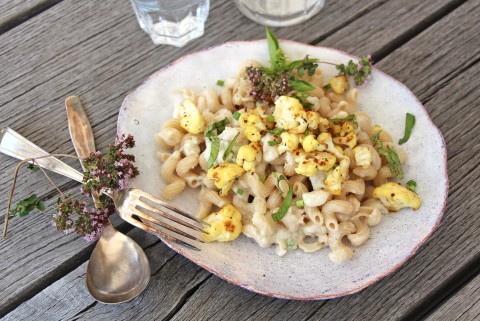 Cauliflower sauce
1 onion, minced
1 clove garlic, minced
1 tbsp butter or oil
approx. 300 g cauliflower, stem and leaves, cubed
approx. 300 ml vegetable stock
3 tbsp almond butter
2-3 tbsp lemon juice
salt and pepper
herbs e.g. basil and oregano
Cauliflower
butter or oil
approx. 300 g cauliflower florets
pinch of curry powder
salt and pepper
4 tbsp sesame seeds
Pasta
400-500 g PureSpelt pasta, e.g. Amori
water, salted
a little butter, if desired
herbs to garnish
1
Cauliflower Sauce: fry the onion and garlic in the butter. Add the cauliflower and cook briefly. Add the stock, cover and cook for 15-20 minutes, or until the cauliflower is soft. Add the rest of the sauce ingredients, bring to a boil, then puree and season. If necessary, thin with a little water.
2
For the cauliflower, warm the butter or oil in a frying pan. Add the cauliflower florets and season. Sprinkle with sesame seeds and, while stirring, fry until soft.
3
Cook the pasta in salted water until al dente, then drain well. If desired, stir in a little butter.
4
Mix the pureed cauliflower with the pasta and place in a warm serving dish. Top with the roasted cauliflower.
Tips
The cauliflower can be substitued with broccoli.
If desired, serve with grated cheese.
Source:
IG Dinkel, Judith Gmür-Stalder