PureSpelt Bread Balls on Spinach
Preliminary time: approx. 30 minutes soaking time
Preparation time: approx. 40 minutes
Baking or cooking time: approx. 20 minutes
serves 4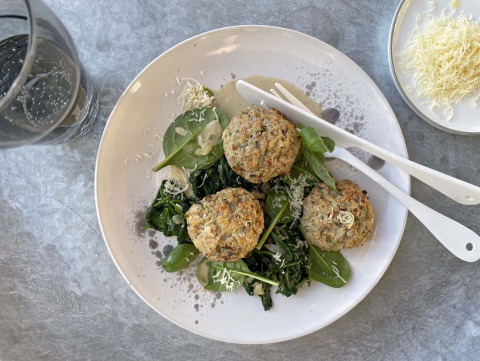 PureSpelt Bread Balls
250 g leftover PureSpelt bread, if desired with seeds, cubed
150-200 ml milk, hot
1 onion, minced
1 clove of garlic, minced
1 tbsp butter
2 tbsp herbs, e.g. rosemary, basil or parsley, finely chopped
3 tbsp spinach, finely chopped
250 g Ricotta or Ziger
1 egg
50 g Sbrinz or Gruyère, grated
salt and pepper
olive or rapeseed oil for drizzling
Spinach
1 onion, minced
1 clove garlic, minced
1 tbsp butter
600 g fresh spinach, washed and dried
100 ml half and half cream
salt and pepper

basil and grated Sbrinz or Gruyère to garnish
1
Pour the hot milk over the bread and let sit for about 30-40 minutes. Once the bread has soaked, use a fork or a food processor to break it up. Fry the onion and garlic in butter. Add the herbs and spinach and fry briefly. Let everything cool, add the rest of the ingredients to the bread mixture, mix well and with wet hands form balls. Place the balls on a parchment-lined baking sheet and drizzle with oil.
2
Preheat the oven to 180°C convection (200°C conventional). Bake the bread balls in the middle of the oven for about 15-20 minutes, or until they are light brown.
3
For the spinach, sauté the onion and garlic in butter. Add the spinach, cover and let steam. Add the cream, bring briefly to a boil and season.
4
Shortly before serving, place the spinach and sauce on a warmed plate. Lay the PureSpelt Bread Balls on top, sprinkle with cheese, garnish and serve hot.
Tips
You can prepare the PureSpelt Bread Balls in advance and bake them just before serving. They taste wonderful the following day for lunch, served with soup or a salad. You can freeze your leftover bread in 250 g portions ready for the recipe, which is also a great way to reduce food waste.
Source:
IG Dinkel, Judith Gmür-Stalder