PureSpelt sweet chestnut/bacon ravioli
Preliminary time: leave to rise for approx. 30 minutes
Preparation time: approx. 1 hour
to serve 4, 1 ravioli stencil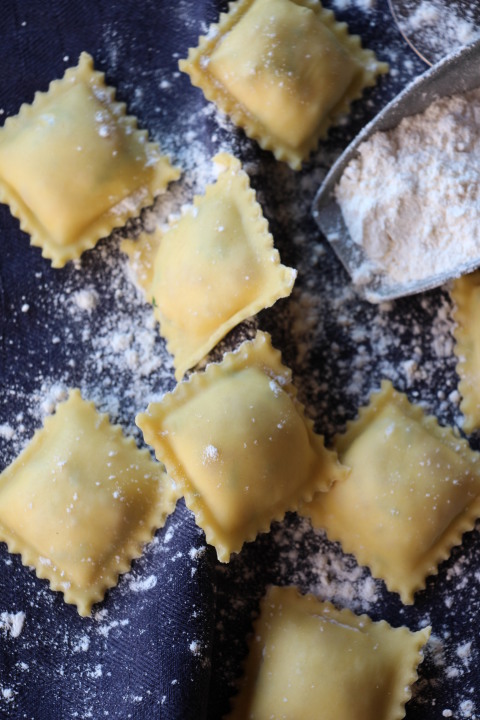 Dough
300 g of PureSpelt dunst or white flour
3 eggs
Filling
50 g of bacon or ham, very finely diced
1 small onion, finely chopped
Butter for sautéing
150 g of frozen sweet chestnuts, thawed and finely chopped
1 tablespoon of rosemary, finely chopped
150 g of ricotta cheese
Salt, pepper
Rosemary butter
100 g of salted butter
A few sprigs of rosemary, needles removed
Lime zests or slices, according to taste
1
Dough: Knead together the flour and eggs to form a firm smooth dough. Cover and leave to rise at room temperature for 30 minutes.
2
Filling: Sauté the diced bacon or ham and the onion in butter. Add the sweet chestnuts and rosemary and continue to sauté, season to taste and allow to cool.
3
Cut the pasta dough into four pieces, roll out each piece to the size of the ravioli stencil. Lay one piece of dough on the ravioli stencil, put a little filling into each of the dips in the dough and brush the interspaces lightly with water. Lay the second piece of dough on top of the first, ensuring that as much air as possible is removed. Roll over the stencil with a rolling pin to cut the ravioli. Tap out the ravioli onto a lightly floured kitchen towel. Repeat the steps with the remainder of the ingredients.
4
Froth up the salted butter together with the rosemary in a saucepan.
5
Cook the ravioli in lightly simmering salted water for 3-5 minutes. Remove the ravioli from the water using a wire mesh ladle, drain well and place on preheated plates. Decorate with rosemary butter and lime zests or slices, serve immediately.
Suggestions
Serve with grated Sbrinz or Parmesan cheese. The ravioli can be deep frozen in meal-size portions. To cook, add the ravioli to lightly simmering salted water for 3-5 minutes.
Source:
IG Dinkel, Judith Gmür-Stalder