PureSpelt Vegetable Kernotto (PureSpelt risotto)
Serves 4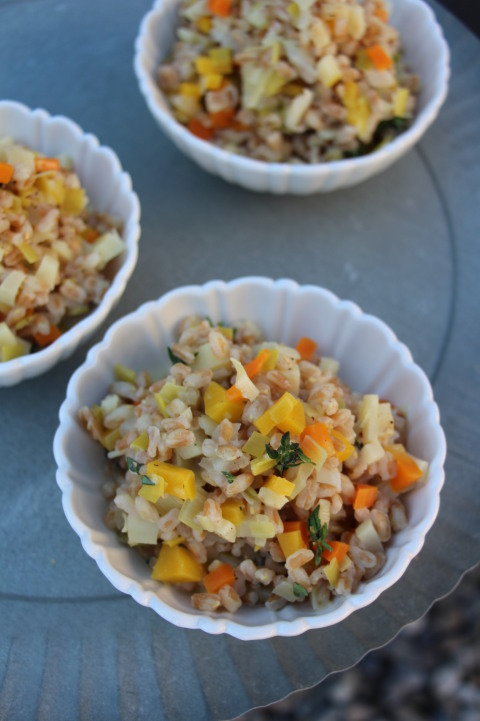 1 onion, finely chopped
1 garlic clove, minced
Butter for sautéing
400 g mixed vegetables, e.g. carrots, parsnips, celery or leek, finely diced
250 g PureSpelt kernotto
100 ml white wine or vegetable stock
Approx. 700 ml vegetable stock
100 ml cream
2-3 tbsp thyme or parsley, finely chopped
Salt and pepper

100 g grated Gruyère cheese, according to taste

Herbs to garnish
1
Sauté the onion and the garlic in the butter. Add the diced vegetables and continue to sauté. Add the PureSpelt kernotto and sauté briefly. Deglaze the mixture using the wine or vegetable stock, allow to boil briefly. Add the vegetable stock, bring to a boil and allow to simmer over low heat while stirring frequently for 20-25 minutes until al dente. Turn off the heat and allow to stand for a short time.
2
Immediately before serving add the cream and the herbs, season and serve together with grated cheese according to taste.
Suggestions
Instead of butter, first fry 100 g of diced bacon, remove the bacon. Saute the onion and garlic in the bacon fat, complete the recipe as described above. Shortly before serving stir the diced bacon into the kernotto mixture. The kernotto can be given an Asian twist by adding 2 to 3 tablespoons of curry paste when sautéing the mixed vegetables (e.g. carrots, celery sticks, bamboo shoots and red peppers). Serve according to personal taste together with chicken, shrimp or fish. Shortly before serving, grate in the peel of an organically grown lemon. Dependent on personal taste, instead of cream use coconut milk or almond milk. Use oil instead of butter for sauteing.
Source:
IG Dinkel, Judith Gmür-Stalder