PureSpelt Herb Knöpfli (little dumplings)
Serves 4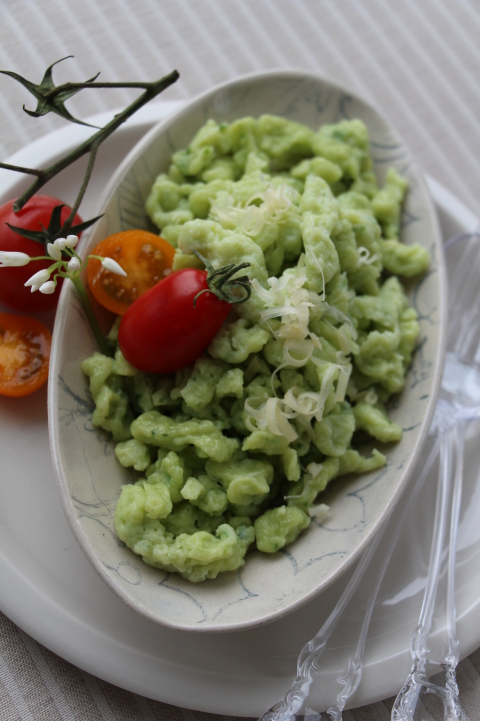 Knöpfli (little dumplings)
300 g PureSpelt knöpfli flour (dunst)
1 tsp salt
Pinch ground nutmeg
150 ml milk water (half milk/half water) or milk if preferred
1 handful of mixed herbs, e.g. lemon thyme, parsley and spinach
3 eggs
Butter
Tomatoes
500 g cherry tomatoes
Olive oil
Salt and pepper
Herbs to garnish
1
To prepare the knöpfli dough, mix the PureSpelt flour with the salt and ground nutmeg together in a mixing bowl; make a well in the mixture. Put the milk water or milk and the finely chopped herbs in a separate bowl and mix well. Beat in the eggs and pour the mixture into the well in the flour. Slowly fold the flour into the liquid. Work the dough for a short time until smooth. Cover the bowl and allow the dough to rise for 30 minutes at room temperature.
2
In batches, press the knöpfli dough through a knöpfli sieve into lightly boiling water, allow to simmer until the "little dumplings" rise to the surface. Use a skimming spoon to lift out and drain the knöpfli. Toss with a little butter and keep warm.
3
Briefly fry the cherry tomatoes in olive oil or roast them under a grill, add salt and pepper to taste and serve together with the knöpfli; garnish with herbs to taste.
Suggestions
Serve with grated cheese according to taste. Or using a vegetable peeler, cut thin flakes from a hard cheese and scatter over the knöpfli. Instead of tomatoes, serve with another seasonal vegetable.
Source:
IG Dinkel, Judith Gmür-Stalder