PureSpelt cucumber quiche
for 1 baking tin of 28-30 cm diameter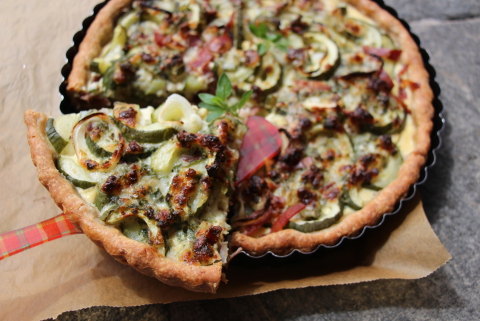 Pastry dough
1.25 dl of milk water (half milk/half water)
1 teaspoon of salt
100 g of butter, cold, cut into pieces
300 g of PureSpelt half-white flour with 20% bruised grain
A little butter for buttering the baking tin
Egg-milk mixture
2 tablespoons of PureSpelt half-white flour with 20% bruised grain
1.5 dl of milk
125 g of cottage cheese or herb cream cheese
2 eggs
Salt, pepper
50 g of grated Sprinz cheese
Filling
2 cucumbers, approx. 800 g, cut in half, deseeded and sliced
1 onion, cut into rings
2 tablespoons of marjoram, chopped
100 g of raw ham or smoked bacon, cut into strips
Marjoram for garnishing
1
Pastry dough: Boil the milk water. Add the salt and the butter and allow the butter to melt. Add the flour and fold it in to form a smooth dough. Roll out the dough to the size of baking tin and lay it in the buttered tin. Prick the pastry base using a fork and place in the refrigerator for 30 minutes.
2
Egg-milk mixture: Stir all the ingredients together well and season to taste.
3
Filling: Distribute all the filling ingredients evenly in layers over the quiche pastry base, then spread the egg-milk mixture evenly over the filling. Immediately place the baking tin in the lower half of an oven pre-heated to 220°C and bake for 30-35 minutes. Remove from the oven, cut into slices, garnish and serve either hot or lukewarm.
Suggestions
Replace the cucumber with zucchini or a mixture of other vegetables. Add dried tomatoes or olives to the filling according to personal taste. Replace the raw ham or smoked bacon by smoked salmon.
Source:
IG Dinkel, Judith Gmür-Stalder