PureSpelt Cucumber Quiche
for a 28-30 cm round baking form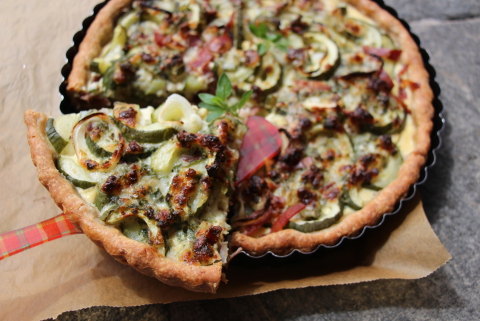 Dough
125 ml milk water (half milk/half water)
1 tsp salt
100 g butter, cold, cut into pieces
300 g PureSpelt half-white flour with 20% whole grain (Schrot)
Butter for the baking form
Custard
2 tbsp PureSpelt half-white flour with 20% whole grain (Schrot)
150 ml milk
125 g cottage cheese or herb cream cheese
2 eggs
Salt and pepper
50 g Sbrinz cheese, grated
Filling
2 cucumbers, approx. 800 g, cut in half, deseeded and sliced
1 onion, cut into rings
2 tbsp marjoram, chopped
100 g raw ham or smoked bacon, cut into strips
Marjoram for garnishing
1
Pastry dough: Boil the milk water. Add the salt and the butter and allow the butter to melt. Fold in the flour to form a smooth dough. Roll out the dough and place in the buttered baking form. Using a fork, prick the dough, then cool in the refrigerator for 30 minutes.
2
Egg-milk mixture: whisk the ingredients together and season to taste.
3
Filling: Distribute the filling ingredients in even layers over the pastry base, then pour in the custard mixture evenly over top. Immediately place the baking form in the lower half of an oven pre-heated to 220°C and bake for 30-35 minutes. Remove from the oven, cut into slices, garnish and serve either hot or lukewarm.
Suggestions
Replace the cucumber with zucchini or a mixture of other vegetables. Add dried tomatoes or olives to the filling, according to taste. Replace the raw ham or smoked bacon with smoked salmon.
Source:
IG Dinkel, Judith Gmür-Stalder