PureSpelt tarte flambée, without yeast
for 2 tarts each of 30 cm diameter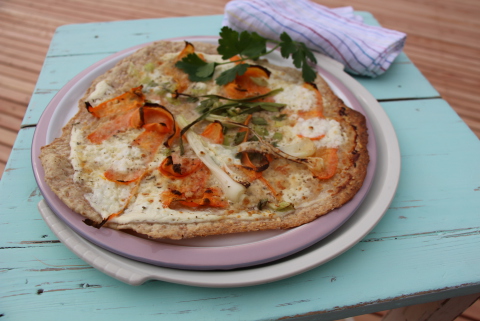 Dough
250 g of PureSpelt half-white flour with 20% whole grain
½ teaspoon of salt
Approx. 1 dl of sparkling mineral water
4 tablespoons of olive oil
Topping
Approx. 100 g of crème fraiche
Approx. 100 g of cottage cheese
1-2 bunches of spring onions, cut in half and/or sliced into rings
2 carrots, peeled and cut along the length into thin slices
75 g of Alpine cheese, grated
Flower salt, pepper
Olive oil for drizzling
Flat-leaf parsley for decoration
1
Mix together all the ingredients for the dough and knead to form a smooth dough. Cut the dough into 2 equal pieces and roll each piece out as thinly as possible to the size of the baking trays, lay each half onto a baking tray covered with baking paper.
2
Thinly spread the two dough bases with the crème fraiche, evenly distribute the remaining topping ingredients on the two bases, season and drizzle with olive oil.
Baking
Place the tarte flambée into the bottom half of an oven pre-heated to 220°C and bake for 10-12 minutes until crisp. Remove from the oven, decorate with parsley and serve immediately.
Suggestion
The wafer-thin pastry base does not require yeast, the carbonic acid in the sparkling mineral water also helps to lighten the dough but this means the dough must be used immediately.
Source:
IG Dinkel, Judith Gmür-Stalder