PureSpelt lasagne
for 1 ovenproof dish with a capacity of approx. 2.5 litres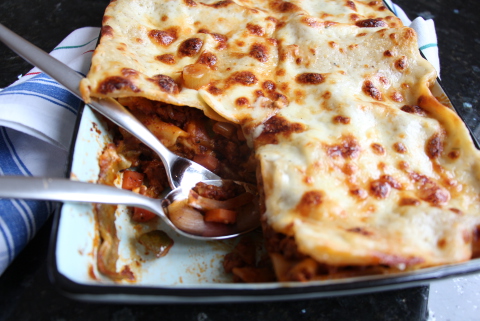 Butter for the dish
Filling
500 g of minced meat
A little oil for frying
2 onions, finely chopped
1 garlic clove, pressed
4 tablespoons of tomato puree
400 g of mixed vegetables, e.g. carrots, celery and leek
2 dl of red wine or meat stock
3 dl of meat stock
1 tablespoon of Italian mixed spices
Salt, pepper
Béchamel sauce
4 tablespoons of butter
4 tablespoons of PureSpelt white flour
6 dl of milk (or half milk/half water)
Salt, pepper, nutmeg

100 g of grated Gruyere cheese
Approx. 18 PureSpelt lasagne sheets
1
Filling: Fry the minced meat in hot oil. Add the onions, garlic and tomato puree and briefly sauté together. Add the vegetabnles and allow to simmer. Deglaze with the wine and/or meat stock and cook down to a sauce.
2
Béchamel sauce: Put all ingredients into a frying pan and bring to the boil while stirring frequently using a whisk. Allow to simmer for a further 5-10 minutes on a low heat. Mix half of the grated Gruyere cheese into the sauce.
3
Fill the buttered ovenproof dish with alternate layers of filling, Béchamel sauce and UrDinkel lasagne sheets. Finish with a final layer of Béchamel sauce sprinkle on the remaining grated Gruyere cheese.
Gratinating
Bake for 40-45 minutes in the middle of an oven preheated to 200°C.
Suggestion
Prepare twice the amount of lasagne, fill 2 ovenproof dishes and deep freeze one portion. The lasagne kann be kept in the deep freezer for 1-2 months.
Source:
IG Dinkel, Judith Gmür-Stalder