PureSpelt salmon quiche
for 1 baking dish of 28-30 cm diameter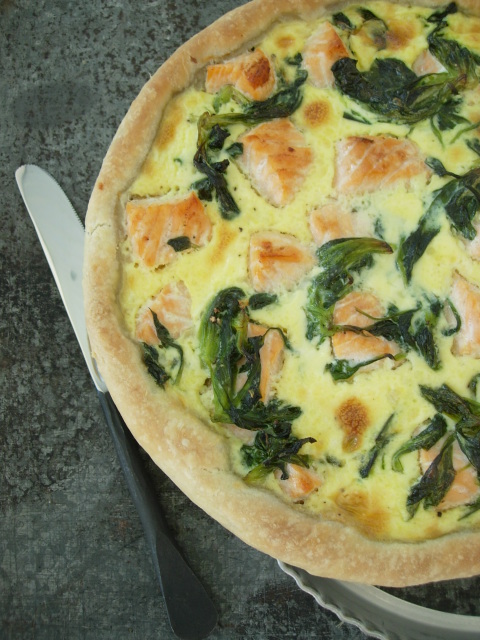 Pastry dough
200 g of PureSpelt flour, light
1 tablespoon of salt
75 g of butter, cold, cut into pieces
1 tablespoon of vinegar
6-7 tablespoons of cold water
Filling
1 clove of garlic, pressed
1 onion, finely chopped
Butter for sautéing
250 g of "Nüsslersalat" (corn salad) or leaf spinach
Salt, pepper, a little ground nutmeg
400 g of salmon, without skin, diced
Egg-milk mixture
1 tablespoon of PureSpelt flour, light
1.5 dl of milk
1.5 dl of cream
3 eggs
Salt, pepper
1
Mix together the pastry flour and the salt, add the butter and using your hands rub the mixture until it is crumbly. Add the vinegar and water and fold in to form a dough; do not knead. Cover the mixture and stand the bowl in a cool place for about 30 minutes.
2
Using a little flour, roll out the dough. Lay the dough in the lightly buttered baking dish, trim the edges and prick the dough base using a fork.
3
Filling: Sauté the garlic and the onions in the butter. Add the corn salad or the spinach leaves, cover and allow the leaves to collapse; season to taste with salt, pepper and nutmeg. Remove the cover and boil down the liquid; allow it to cool slightly.
4
Egg-milk mixture: Stir the flour into the milk, subsequently stir in the remaining ingredients, season.
5
Distribute the filling (corn salad or spinach) and the diced salmon evenly over the pastry base of the quiche, pour the egg-milk mixture evenly over the filling.
Baking
Bake for 30-35 minutes in the middle of an oven preheated to 200°C. Serve the quiche in slices, either hot or lukewarm.
Suggestions
Use any other type of fish according to taste. Mix the grated peel of ½ a lemon into the egg-milk mixture.
Source:
IG Dinkel, Judith Gmür-Stalder