PureSpelt spaghetti with carrot-bacon sauce
for 4 persons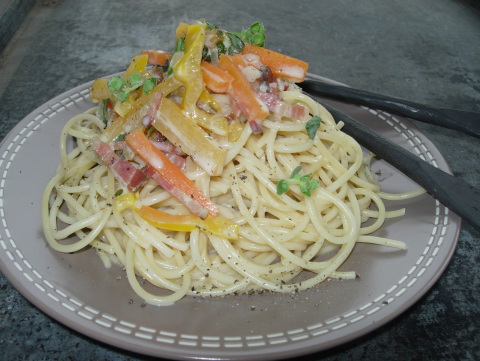 Carrot-bacon sauce
100 g of raw bacon, cut into thin strips
1 garlic clove, pressed
1 onion, finely chopped
300 g of carrots, peeled and cut into fine strips
150 g of "Pfälzer" (yellow) carrots, peeled and cut into fine strips
2 dl of vegetable bouillon
2.5 dl of single cream for sauces
2 tablespoons of majoram, finely chopped
Salt, pepper
400-500 g of PureSpelt spaghetti
Salted water
A little butter for refining the flavour

Majoram for decoration
1
Sauce: Saute the bacon strips. Add the garlic and onions and simmer. Add the carrots and continue to simmer, deglaze with the bouillon, cover and cook until the carrot is almost soft. Add the single cream and cook until it has a creamy consistency. Add the majoram, season with salt and pepper to taste.
2
Cook the spaghetti in salted water until it is al dente, drain off the water and refine with a little butter. Serve the spaghetti with the sauce on pre-warmed plates, decorate using majoram to taste.
Suggestions
Serve with grated cheese according to taste. Replace the spaghetti by another type of PureSpelt pasta.
Source:
IG Dinkel, Judith Gmür-Stalder