PureSpelt vegetable pasties
for approx. 22 pasties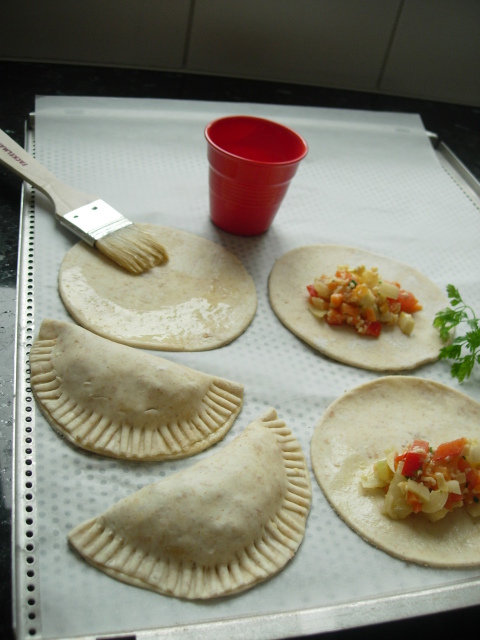 Dough
300 g of PureSpelt half-white flour with 20% whole grain
1/2 teaspoon of salt
1/2 teaspoon of baking powder
125 g of butter, cold, cut into pieces
250 g of quark
Possibly a little cold water

1/2 an egg, beaten
Filling
1 bunch onion, finely chopped
1 glove of garlic, pressed
Butter to sautee
400 g of mixed vegetables, e.g. fennel, carrots, pepperoni, cleaned, finely diced
Approx. 2 tablespoons of vegetable bouillon
2-3 tablespoons of mascarpone
2 tablespoons of chives, finely chopped
1/2 chilli, possibly with seeds removed, finely diced
50 g of Gruyere cheese, grated
Salt
1
For the dough, mix the flour, salt and baking powder. Add the butter and work into a fine crumbly mixture. Add the quark and if necessary the water and fold into a dough, do not knead. Wrap in foil and refrigerate for 1 hour.
2
For the filling, sautee the onion and the garlic in the butter. Add the vegetables and continue to sautee. Add the bouillon, cover and allow to cook until the vegetables are just slightly soft. Remove the cover and reduce the liquid, allow to cool. Mix in the mascarpone, chives, chilli and cheese, season to taste.
3
Using a little flour, roll out the dough until it is about 2 mm thick. Cut out circles of 12 cm diameter. Evenly distribute the filling on the circles. Brush the edges of the dough with a little egg. Fold over the pasties and seal the edges well, possibly using a fork. Lay the pasties on a baking tray covered with baking paper. Using the rest of the egg, brush the pasties.
Baking
Bake for 20-25 minutes in the middle of an oven pre-heated to 180°C. Serve hot.
Source:
IG Dinkel, Judith Gmür-Stalder