PureSpelt gelatine pâté
for 1 cake tin 24 cm long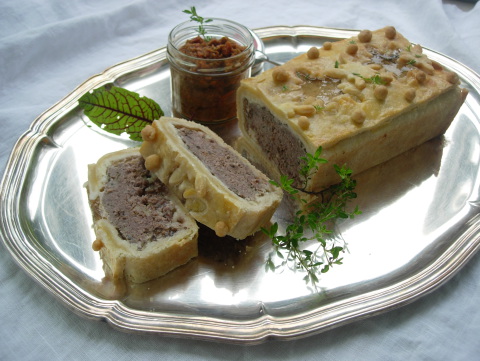 Dough
250 g of PureSpelt white flour
1/2 teaspoon of salt
100 g of butter, cold, cut into pieces
1 egg, whisked
Possibly a little water
Filling
500 g of minced veal
1 shalott, finely chopped
1 clove of garlic, pressed
4 dried apricots, finely diced
1 table spoon of salt
Pepper from the mill
3 table spoons of mascarpone
The white of one egg
1 table spoon of mustard
1 table spoon of rosemary, finely chopped

The yoke of one egg mixed with 1 table spoon of cream

1 packet of gelatine (aspic) powder (for 2.5 dl)
1
For the dough, mix the flour and salt. Add the butter and rub into a crumbly mass. Add the egg and if necessary the water. Merge into a dough, do not knead. Wrap in foil and cool for 30-60 minutes.
2
For the filling, put all the ingredients up to and including the rosemary in a bowl and mix well.
3
Roll out 2/3 of the dough to the size of cake tin, line the buttered tin with the dough. Roll out the remainder of the dough to form a pastry cover for the tin and trim to size; cut out two holes and from the remaining dough press out the decorative shapes, lay on the cover and place everything in the refrigerator.
4
Pour the filling into the prepared tin and lightly press to ensure it is well filled. Fold the edges of the pastry that are above the filling over onto the filling, brush with egg yolk. Lay the pastry cover on top and ensure the edges are well sealed.
Baking
Bake for 35-40 minutes in the middle of an oven pre-heated to 190°C. Remove and allow to cool.
5
Prepare the gelatine (aspic) according to the instructions, allow it to cool and then fill into the pâté; place in the refrigerator and allow to solidify.
Suggestions
Serve the pâté with sauces, crème fraîche, salad or vegetables according to taste. Covered, it can be kept in the refrigerator for 3-4 days.
Source:
IG Dinkel, Judith Gmür-Stalder