PureSpelt pea quiche
for 1 baking dish of 28 cm diameter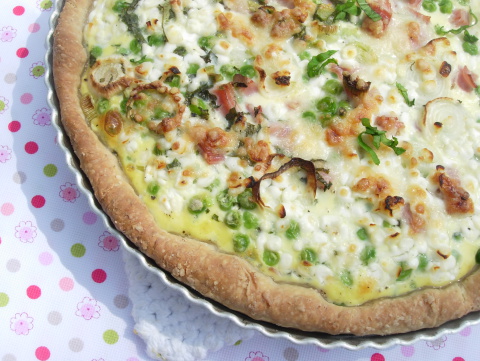 Pastry
1.25 dl of milk water (half milk/half water)
100 g of butter, cut into pieces
300 g of PureSpelt half-white flour with 20% whole grain
1 teaspoon of salt
Filling
500 g of peas, shelled, blanched
100 g of ham, diced
1 bunching onion, cut into rings
1-2 teaspoons of garden mint or parsley, finely chopped
Topping
200 g of cottage cheese
4 tablespoons of Gruyere cheese, grated
2 eggs
1 dl of milk
Salt, pepper
1
For the pastry, boil the milk water. Melt the butter into the milk water. Mix the flour and the salt. Add the milk-water-butter mixture to the flour, fold to form a smooth dough, do not knead.
2
Flour a worktop and roll out the dough. Lay into a greased baking dish. Prick the pastry base using a fork, place in a fridge for 15-30 minutes.
3
Mix together the peas, diced ham, sliced bunching onion and garden mint or parsley, spread out on the pastry base.
4
For the topping mix together all the ingredients listed above, season to taste and pour it over the filling.
Baking
Bake for 30-35 minutes on the lowest shelf of an oven pre-heated to 200°C.
Source:
IG Dinkel, Judith Gmür-Stalder