PureSpelt tagliatelle with lemon chicken sauce
for 4 people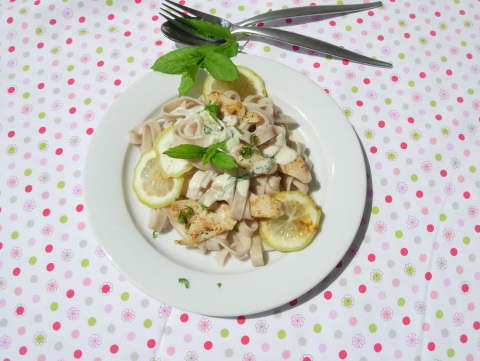 Lemon chicken sauce
500 g of sliced chicken (Pouletgeschnetzeltes)
Cooking butter
Salt, pepper, paprika
1 lemon, cut in slices
1 onion, finely chopped
1 clove of garlic, pressed
1 dl of white wine or chicken stock
1 dl chicken stock
1.8 dl single cream for sauces
2-3 tablespoon of garden mint, finely chopped
400-500 g of PureSpelt tagliatelle
Salt water

Sprigs of garden mint to garnish
1
For the sauce, fry the chicken strips in the hot cooking butter in portions, remove from the pan and season to taste.
2
Briefly fry the lemon slices in the cooking butter, add to the chicken.
3
Sauté the onion and the garlic in the remaining cooking butter. Deglaze with the wine and/or chicken stock, simmer briefly. Add the single cream; reduce until it has a creamy consistency.
4
Cook the PureSpelt tagliatelle in boiling salt water until it is al dente, drain.
5
Add the chicken and the lemon slices to the sauce, heat briefly, do not boil.
6
Distribute the pasta onto pre-warmed plates. Pour on the lemon chicken sauce, garnish.
Source:
IG Dinkel, Judith Gmür-Stalder