PureSpelt chicken sandwich
for 1 person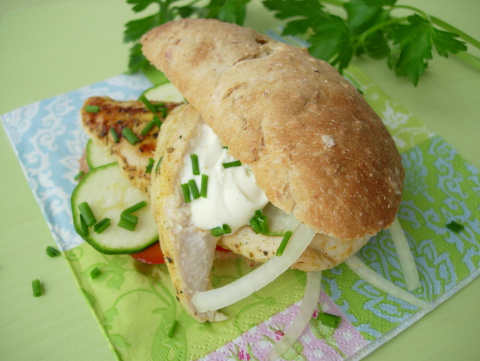 1 PureSpelt bread roll cut in half or two slices of PureSpelt bread
A little butter
Filling
1 small chicken breast
Salt
Pepper from the mill
Cooking butter or oil
A few onion rings
A few strips of pepperoni
A few slices of zucchini
2 tablespoons of herbal curd cheese (quark)
1 tablespoon of chopped chives or chopped parsley
1
Butter the two halves of the roll or the two slices of bread. Toast briefly in the frying pan.
2
Season the chicken breast to taste, fry in the hot cooking butter or oil for 7-9 minutes, allow to stand briefly.
3
Cover one half of the roll (one slice of bread) with the vegetables, cut open the chicken and lay on the vegetables with the quark. Garnish with chopped chives or parsley and cover with the second half of the roll (second slice of bread); enjoy while fresh.
Source:
IG Dinkel, Judith Gmür-Stalder