PureSpelt penne au gratin with pumpkin
for 1 casserole dish with a volume of approx. 2.5 l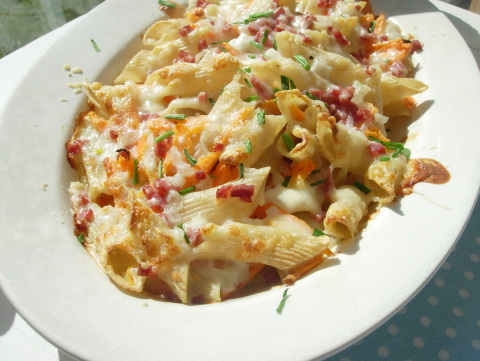 300 g of PureSpelt pasta, e.g. penne
Salted water
Sauce
1 tablespoon of butter
1 onion, finely chopped
1 clove of garlic, pressed
2 tablespoons of PureSpelt white flour
Approx. 2.5 dl of vegetable stock, cold
2.5 dl single cream
Salt
Pepper from the mill

400 g of pumpkin, peeled and grated using a course grater
100 g of diced bacon
100 g of Gruyere cheese, grated

2 tablespoons of finely chopped chives
1
Cook the penna al dente in the boiling salt water, drain, rinse with cold water and leave to drain. Grease the casserole using a little butter.
2
For the sauce, warm the butter and sauté the onion and the garlic. Add the flour and continue to sauté briefly. Deglaze using the stock and the cream and bring to the boil while stirring constantly with a whisk. Turn off the burner and leave to steep for 5-10 minutes; season to taste.
3
Mix the pasta, pumpkin and bacon with half of the cheese, transfer to the greased casserole. Pour the sauce over the pasta and sprinkle with the remainder of the Gruyere cheese.
Gratinate
Bake for approximately 35-40 minutes in the middle of an oven pre-heated to 200°C. Sprinkle with chopped chives prior to serving.
Source:
IG Dinkel, Judith Gmür-Stalder