PureSpelt chicken toast
to serve 4 people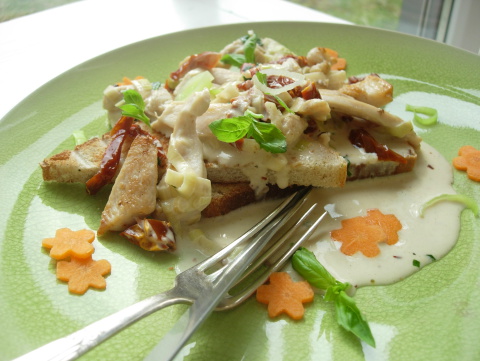 500 g of sliced chicken
Cooking butter
1 teaspoon of salt
Pepper from the mill
1 clove of garlic, pressed
2-3 bunching onions, cut into fine rings
75 g of dried tomatoes in oil, drained, cut into strips
1 dl of white wine of chicken stock
Approx. 1 dl of chicken stock
1.8 dl of single cream
2 tablespoons of finely chopped basil
Salt
Pepper from the mill

8 slices of PureSpelt toast bread

Basil and carrot flower shapes to garnish
1
Sauté the chicken pieces in portions in the hot frying butter, remove and season to taste.
2
Sauté the garlic and onion rings in the frying butter. Add the tomatoes, deglaze with white wine and/or the chicken stock, allow to simmer for a short time. Add the single cream; simmer until it has a creamy consistency. Add the chicken strips and the basil, take it off the heat as soon as it is hot, season to taste.
3
Toast the slices of PureSpelt bread in a toaster or in the oven, distribute onto pre-warmed plates. Spread on the chicken, garnish.
Suggestions
This can be eaten with a salad or steamed vegetables. Instead of bunching onions use leeks.
Source:
IG Dinkel, Judith Gmür-Stalder