Green asparagus with PureSpelt breadcrumbs
for 4 people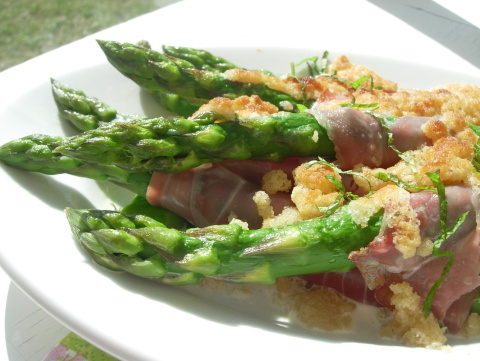 24 green asparagus spears, 800 g - 1 kg, freshly cut, if necessary peeled
2 tablespoons of butter, melted
24 slices of cured ham
2 dl single cream
PureSpelt breadcrumbs
50 g of butter
50 g of PureSpelt breadcrumbs
2 tablespoons finely chopped lemon balm
A little grated lemon peel
A little salt
1
Cook the asparagus in boiling water or in a steamer until it is almost soft. Remove the asparagus, brush the spears with the melted butter and roll each spear in a slice of cured ham. Lay the still warm asparagus in a wide, buttered oven-proof dish. Pour on the single cream.
2
Breadcrumbs: Finely crumble the butter together the PureSpelt breadcrumbs by hand. Mix in the lemon balm, grated lemon peel and salt. Spread the breadcrumbs over the asparagus.
Gratinating
Bake for 10-15 minutes in the top half of an oven pre-heated to 200°C.
Source:
IG Dinkel, Judith Gmür-Stalder