PureSpelt sauerkraut sausages
for 8 sausages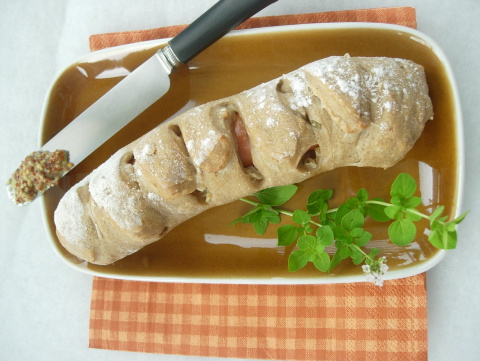 Pastry
200 g of PureSpelt white flour
200 g of PureSpelt wholemeal flour
1 teaspoon of salt
10 g of yeast
Approx. 2.5 dl of water
2 tablespoons of rapeseed oil
Filling
4 tablespoons of crème fraîche
2 tablespoons of coarse-grained mustard
Approx. 200 g of sauerkraut, drained
4 wiener sausages and 4 pork sausages
2 tablespoons of oregano leaves
1
For the pastry mix the flour and salt, form a hollow in the flour. Mix the yeast with the water, add the rapeseed oil. Pour the mixture into the hollow in the flour and knead to form a smooth pastry, cover and leave to stand for 2-3 hours until it has doubled in volume.
2
Sprinkle some flour onto a working surface and roll out the pastry into a square approximately 40 x 60 cm; cut into 8 rectangular pieces (approx. 20 x 15 cm). Spread the pastry strips with crème fraîche and mustard, distribute the sauerkraut on top. Lay a sausage on each and sprinkle with oregano. Along the length of the pastry rectangles makes cuts on each side of 3-4 cm in length at intervals of 2-3 cm. Fold the pastry strips, alternately from one side and then the other, over the sausage and lay on a baking tray lined with baking paper.
Baking
Bake for 20-25 minutes in the middle of an oven preheated to 200°C. Serve while still hot.
Suggestion
They taste great with coarse-grained mustard and a mixed salad.
Source:
IG Dinkel, Judith Gmür-Stalder