PureSpelt chicken soup
to serve 4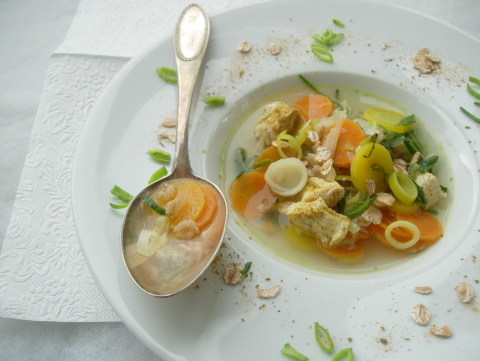 1 onion, finely chopped
1 clove of garlic. pressed
Butter for sautéing
50 g of PureSpelt flakes
350 g of mixed vegetables, e.g. carrots, yellow carrots, leeks, peeled, finely sliced
Approx. 1 liter of chicken or vegetable stock
250 g of chicken breast, diced
1/2 teaspoon of salt
1 teaspoon of curry
Pepper from the mill
A little grated lemon peel

A few rings of leek, curry and PureSpelt flakes for decoration
1
Sauté the onion and the garlic in the butter. Add the PureSpelt flakes and the vegetables and continue to sautee. Deglaze using the stock and bring to the boil. Simmer for 10-15 minutes until the vegetables are almost soft.
2
Season the diced chicken breast and add to the soup together with the lemon peel, simmer for 5-8 minutes until cooked, do not boil. Serve the soup into the pre-warmed bowls, decorate.
Suggestion
Delicious with crispy PureSpelt bread.
Source:
IG Dinkel, Judith Gmür-Stalder