PureSpelt herb rusks
to serve 4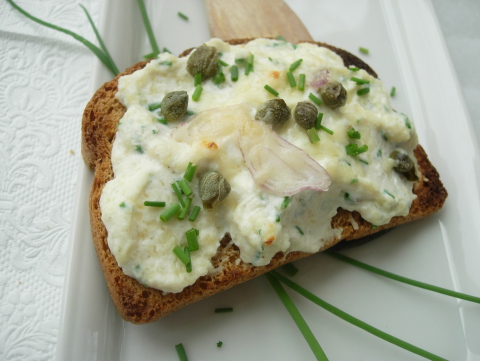 8 PureSpelt rusks
Topping
250 g of ricotta cheese
50 g grated Gruyere cheese
Pepper from the mill
1 bunch of chives, finely chopped
1/2 a shallott, finely chopped
1 clove of garlic, pressed
Decoration
A few shallott rings, a few capers
2 tablespoons of grated Gruyere cheese
A few chives
1
Place the PureSpelt rusks on a baking tray lined with baking paper.
2
For the topping, mix together all the ingredients, spread it on the 8 rusks, decorate using a little Gruyere cheese, shallot rings and capers .
Baking
Bake for 5-8 minutes in the middle of an oven pre-heated to 200°C. Serve while still warm.
Source:
IG Dinkel, Judith Gmür-Stalder