PureSpelt spaghetti with zucchini-lemon sauce
Preparation time: approx. 40 minutes
to serve four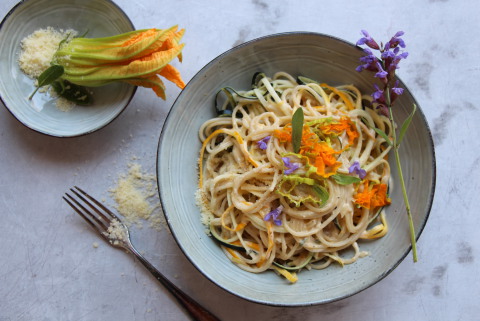 Zucchini lemon sauce
1 clove of garlic, pressed
1 shallot, chopped
1 tablespoon of butter
3-4 zucchini flowers, pistils removed, quartered
1 organic lemon, grated rind and a few drops of juice
Approx. 1 dl of vegetable stock
2.5 dl of single "sauce cream"
Salt and pepper to taste
6-8 sage leaves, finely chopped
PureSpelt spaghetti
400 g of PureSpelt spaghetti
Salted water
2 courgettes, green and/or yellow, cut into fine strips
Sage and blossoms, to garnish as desired

Lemon zest and sage, possibly with flowers, for garnishing
1
For the sauce, sautée the garlic and the chopped shallot in the butter. Add the zucchini blossoms and the lemon zest and briefly continue to sauté. Deglaze using the vegetable stock. Add half of the sauce cream to the sauce, reduce the sauce until it takes on a creamy texture and season to taste using the lemon juice.
2
Boil the PureSpelt spaghetti al dente in boiling salt water. Add the zucchini strips to the spagehetti and cook for the last 2-3 minutes. Drain everything, allowing it to drain well.
3
Mix the PureSpelt spaghetti with the sauce, arrange on preheated plates and garnish.
Serving suggestion
Sprinkle the spaghetti with grated Sprinz cheese according to taste.
Source:
IG Dinkel, Judith Gmür-Stalder