PureSpelt Gnome's-hat pasta with sweet chestnut-bacon ragout
to serve 4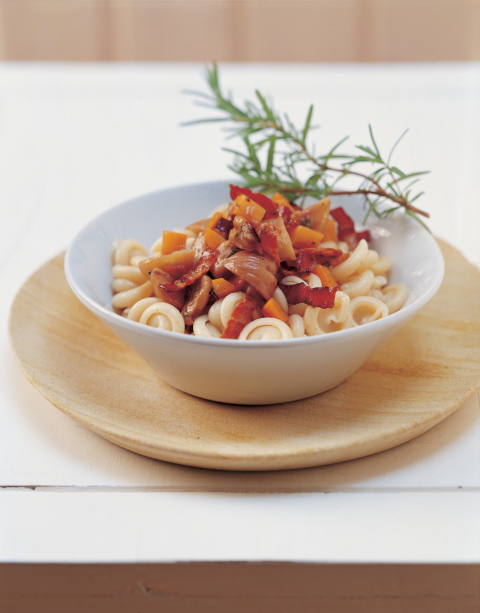 400 g of PureSpelt pasta, e.g. PureSpelt Gnome's-hat pasta or PureSpelt Hüetli pasta
Sweet chestnut-bacon ragout
100 g of bacon slices, cut into strips
300 g of frozen sweet chestnuts, defrosted, cut into quarters
2 carrots, peeled, finely diced
2 garlic cloves, pressed
2 small sprigs of rosemary, finely chopped
1 bay leaf
1 tablespoon of PureSpelt white flour
1 dl/100 ml of red wine
Approx. 2 1⁄2 dl/250 ml of meat stock
Salt
Freshly ground pepper

Rosemary for garnish
1
For the ragout, fry the bacon in a frying pan, add all the ingredients up to and including the bay leaf and sauté briefly, dust with flour and deglaze using the red wine. Add the meat stock, cover the pan and cook the ragout for 10 to 15 minutes over a low heat.
2
Cook the PureSpelt pasta in salted water until it is al dente, drain off the water.
3
Serve the PureSpelt Gnome's hat pasta onto pre-warmed bowls. Spread the sweet chestnut-bacon ragout over the pasta and garnish with rosemary.
Variations
Use celleriac, parsnips or Pfälzer carrots instead of carrots.
A recipe from the book "UrDinkel - Pasta". View it now in the
Shop
.
Source:
IG Dinkel, Judith Gmür-Stalder