PureSpelt Linguine pasta with zitrus sauce
Preparation time: Approx. 35 minutes
to serve four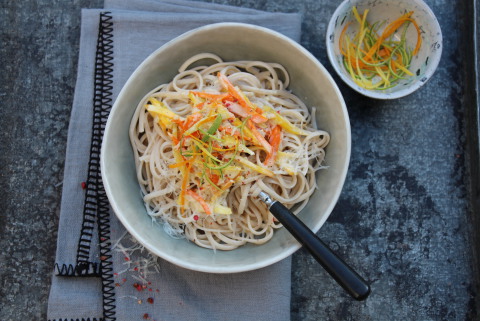 400-500 g of PureSpelt Linguine or Taglierini pasta (delicate nudels)
Citrus sauce
1 each untreated lime, orange and lemon
1 clove of garlic, pressed
1 tablespoon of butter
2 carrots, e.g. Palatinate and orange carrots, peeled, cut into fine strips
Approx. 1 dl/100 ml of vegetable stock
180 g of crème fraîche
Salt and pepper to taste
Pink peppercorns
A few drops of lemon juice
100 g of Sbrinz cheese, freshly grated, according to taste
1
For the citrus sauce, wash the citrus fruits with warm water. Remove the peel in thin slithers and cut into fine strips. Put aside a little bowl of peel strips for the garnish. Briefly blanch the remaining peel strips in boiling water, strain and allow to drain.
2
Cook the Linguine pasta in boiling salted water until al dente, strain and drain well.
3
Sauté the blanched citrus peel, garlic and carrots in butter, deglaze using the vegetable stock, cook until tender. Stir in the crème fraîche and then allow to heat up. Season according to taste and flavour with lemon juice. Arrange the linguine pasta on preheated plates, add the sauce and garnish before serving.
Suggestions
Replace grated Sbrinz cheese with Sbrinz flakes.
Use just one type of citrus fruit.
Use other types of PureSpelt pasta depending on your personal taste.
Source:
IG Dinkel, Judith Gmür-Stalder