PureSpelt apple pudding
for 1 two litre, oven-proof pie dish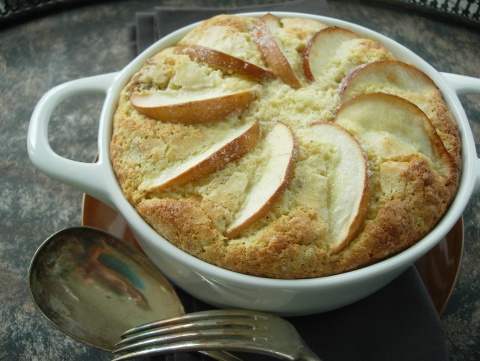 200 g of PureSpelt bread, cut into small cubes
2.5 dl of milk, hot
100 g of butter, soft
125 g of sugar
3 egg yolks
Grated peel of 1/2 a lemon
1/2 teaspoon of gingerbread spices, according to taste
3 tablespoons of ground almonds
100 g of crème fraîche
3 egg whites
1 pinch of salt
3 apples, de-cored, cut into thin slices
3 tablespoons of orange juice
Decoration
1 apple, de-cored, cut into slices
1 tablespoon of sugar for sprinkling
1
Pour the milk over the cubes of PureSpelt bread, allow to soak and then mash finely using a fork.
2
Whisk the butter until fluffy. Add the sugar and egg yolks, continue to stir until the mixture turns pale. Stir in the grated lemon peel, gingerbread spices, ground almonds and crème fraîche. Beat the egg whites and salt until stiff, carefully fold into the dough mixture.
3
Distribute the apple slices in the buttered pie dish, dribble with orange juice. Lay the dough mass in the dish, decorate with apple slices and sprinkle with sugar.
Baking
Bake for 40-45 minutes in the middle of an oven pre-heated to 180°C. Serve while still lukewarm or when cold. .
Source:
IG Dinkel, Judith Gmür-Stalder