PureSpelt crème with strawberries
for one bowl, approx. 1.5 litres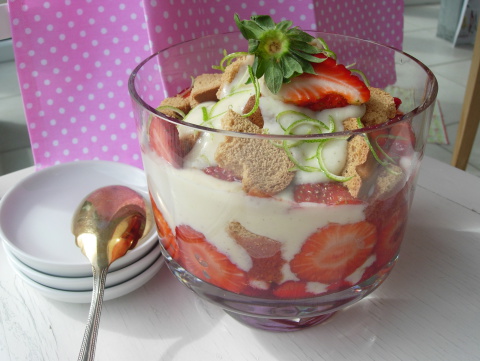 Lime crème
6 dl of milk
1 tablespoon of corn starch
5 teaspoons of sugar
3 eggs
1 tablespoon of vanilla sugar
The grated peel of 1 lime
Strawberries
500 g of strawberries, prepared and cut into slices
1 dl of stawberry or rose syrup
1-2 tablespoons of lime juice

8-10 PureSpelt rusks, 125-150 g, crumbled

Lime zests for decoration
1
For the crème, mix together all the ingredients up to and including the grated lime peel. While constantly stirring using a whisk, heat the mixture on a medium heat until it is almost boiling, sieve the cream, stir often.
2
Mix the strawberries with the syrup and lime juice.
3
Lay the strawberries, crumbled PureSpelt rusks and the lime creme into the bowl in alternating layers. Cover and place in the fridge to cool for 1-2 hours. Decorate with lime zests and strawberries shortly before serving.
Source:
IG Dinkel, Judith Gmür-Stalder