PureSpelt ice cream
(to serve 4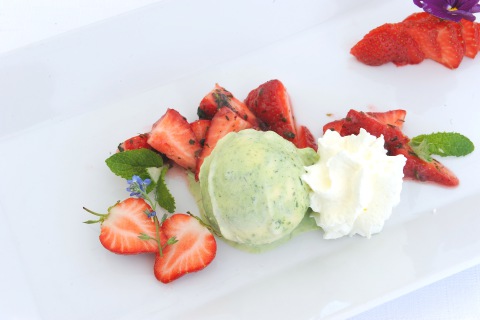 50 g of PureSpelt grass, washed, cut into pieces
3 dl of apple juice
1 lime or lemon, grated peel and
1 tablespoon of juice
150 g of sugar
1 packet of vanilla sugar
180 g of unflavoured cream yoghurt
1
Finely purée the PureSpelt grass, apple juice, lime or lemon peel and juice in a blender; pour out the mixture through a sieve into a container; press out the sieved remains of the grass to remove all the juice.
2
Mix the grass juice together with the sugar, vanilla sugar and yoghurt and freeze in an ice cream making machine. Serve in portions.
Suggestions
Instead of freezing in an ice cream machine, pour the mixture into a flat dish and freeze while regularly stirring with a whisk. When the mixture is frozen to a relatively stiff consistency, briefly mix using a hand blender until it is a creamy mass. The ice cream can be kept in a freezer for 2-3 months; allow to thaw for a short time before portioning. Serve according to taste with fresh berries. The PureSpelt grass/apple juice can also be enjoyed well chilled as a drink, with ice cubes according to taste.
Fresh PureSpelt grass can be ordered in our
Shop
.
Source:
IG Dinkel, Judith Gmür-Stalder