PureSpelt rusk tiramisu
for 1 dish of approx. 1.5 litres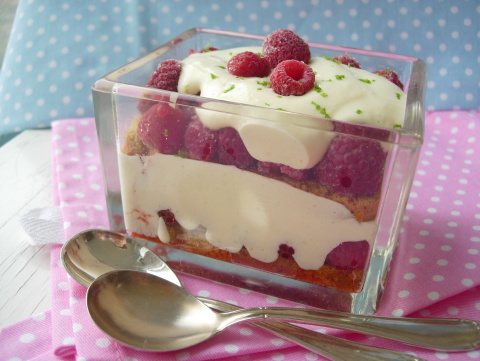 2 egg yolks
3 tablespoons of sugar
250 g of mascarpone cheese
1/2 lime, grated peel and 1 tablespoon of juice
2 egg whites
2 tablespoon of sugar
Liquid for dipping
1 dl raspberry syrup
3 tablespoons of water
1 tablespoon of rosewater, according to taste
1 tablespoon of lime juice

Approx. 8 PureSpelt rusk biscuits, approx.125 g
400 g of raspberries

Lime zests and raspberries for decoration
1
Mix together the egg yolks and the sugar until the mixture is light in colour. Stir in the mascarpone, lime peel and lime juice. Stiffly whip the egg whites, sprinkle in the sugar, continue to whip until the mixture is shiny, carefully fold in the mascarpone mixture.
2
Stir together the water, rose water and lime juice.
3
Fill the dish with alternating layers of PureSpelt rusk biscuits, the dipping liquid, raspberries and mascarpone cream. Cover and place in the refrigerator to cool for 3-4 hours. Decorate with lime zests and raspberries just before serving.
Source:
IG Dinkel, Judith Gmür-Stalder