PureSpelt semolina soufflé
6 individual baking dishes, each holding approx. 3.5 dl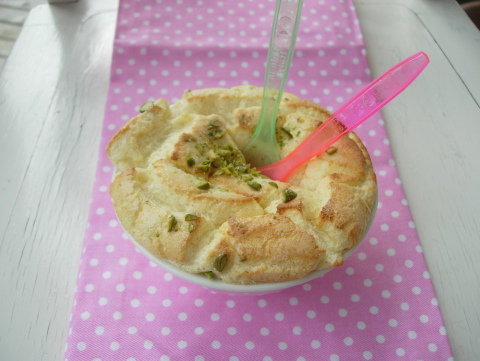 5 dl of milk
1 pinch of salt
100 g of PureSpelt semolina
50 g of butter
50 g of sugar

250 g of quark or Ricotta cheese
3 egg yolks
3 egg whites
1 pinch of salt
2 tablespoons of sugar
Grated peel of 1 lemon

1-2 tablespoons of pistachio nuts, chopped
1 tablespoon of sugar for dusting
1
Boil the milk and add the salt. Under constant stirring sprinkle in the PureSpelt semolina. Stirring constantly, simmer for 5-10 minutes. Stir in the butter and the sugar and allow the mixture to cool slightly.
2
Stir in the quark or Ricotta cheese and the egg yolks. Beat the egg whites together with the salt until they are stiff. Add the sugar and continue to beat until shiny. Carefully fold in the beaten egg whites and the grated lemon peel. Transfer the mixture in equal portions to the individual baking dishes and sprinkle with pistachio nuts and sugar.
Baking
Bake for 25-30 minutes in the middle of an oven pre-heated to 180°C. Serve hot or lukewarm.
Suggestion
Serve with berries or stewed fruit.
UrDinkel-Griess ist im Online-Shop erhältlich.
Source:
IG Dinkel, Judith Gmür-Stalder