PureSpelt cheesecakes with strawberry sauce
for 8 glasses, each containing approx. 1.5 dl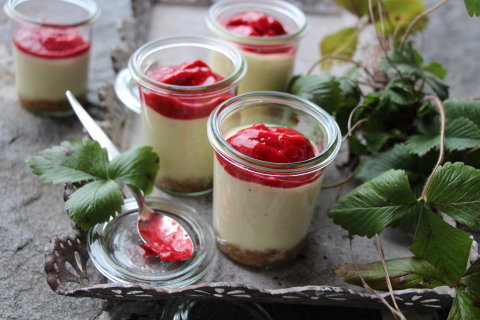 Base
30 g of butter
50 g of PureSpelt biscuits or flakes
25 g of almonds
25 g of sugar
Cheesecake mixt
400 g of double cream cheese, e.g. Philadelphia
0.5 dl of cream
2 eggs
75 g of sugar
Grated peel of 1 lemon
Strawberry sauce
250 g of strawberries, prepared and washed
50 g of sugar
1 teaspoon of lemon juice

Strawberry leaves for decoration
1
Base: Using a blender, finely chop the butter, PureSpelt biscuits or flakes, almonds and sugar. Distribute the mixture evenly in the 8 glasses and press lightly into the base.
2
Cheesecake mixture: Briefly mix all the ingredients together and pour into the glasses on top of the biscuit base. Seal the glasses with a cover or kitchen film. Fill a pan with approx. 2 cm of water and bring to the boil. Place the glasses in the water, cover the pan and allow to simmer (do not boil) for 20-25 minutes. Remove the pan from the heat and allow to stand for a short time before removing the glasses from the water. Allow the glasses to cool down completely and then place the cheesecakes in the refrigerator for 3-4 hours or overnight.
3
For the strawberry sauce, purée all the ingredients in a food processor. Shortly before serving, distribute the sauce evenly on the 8 glasses and decorate with the leaves.
Suggestions
Instead of double cream cheese use a mixture of 250 g of ricotta and 150 g of mascarpone or 400 g of quark (curd cheese) according to personal taste. If desired, poach the cheesecakes in the oven, making sure to follow the oven manufacturer's instructions.
Source:
IG Dinkel, Judith Gmür-Stalder