PureSpelt aniseed-apple porridge
to serve 4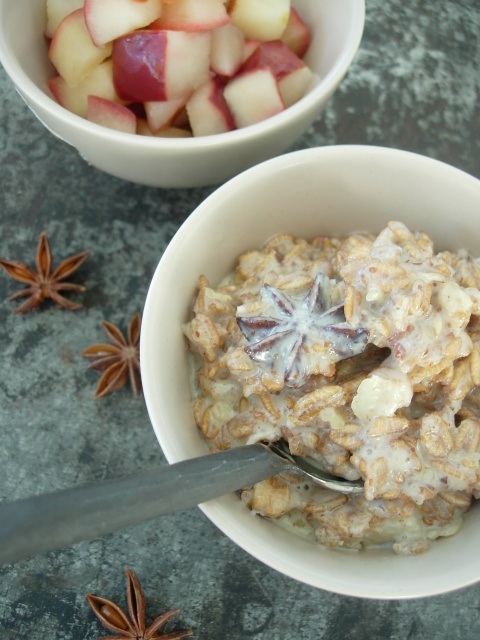 PureSpelt porridge
1.2 l of milk or milk water (half milk/half water)
½ teaspoon of salt
1-2 star anise, prepared according to taste
3-4 tablespoons of raw sugar
250 g of PureSpelt flakes
4 tablespoons of cream
4 tablespoons of ground almonds
Apple
4 tablespoons of sugar
50 g of butter
4-6 red-skinned apples, peeled and cored, finely diced
A little apple juice or water

Star anise to decorate
1
Porridge: Boil the milk or milk-water, stir in the salt, star anise and sugar.
2
Add the PureSpelt flakes, cook at a medium heat while constantly stirring until the porridge reaches the desired consistency. Mix in the cream and the ground almonds.
3
Apples: Lightly caramelise the sugar. Add the butter and the diced apples, using a little apple juice or water to cook the apples until they are almost soft. Shortly before serving stir the apples into the PureSpelt porridge, or if desired serve separately.
Source:
IG Dinkel, Judith Gmür-Stalder