PureSpelt bread and butter pudding
for 1 two litre, oven-proof pie dish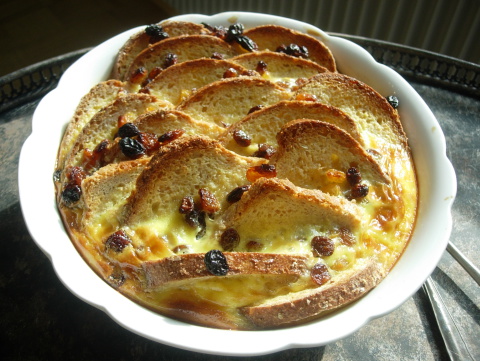 150 g of raisins
1/2 dl of cognac or orange juice
Approx. 250 g of PureSpelt bread, cut into thin slices
3 tablespoons of butter, soft
6 eggs
125 g of sugar
1 small packet of vanilla sugar
2 dl of cream
4 dl of milk

2 tablespoons of raw sugar
1
Marinate the raisins in the cognac or orange juice, cover and allow to swell for 1-2 hours.
2
Spread the slices of PureSpelt bread with butter, if desired cut the slices in half.
3
Mix together the eggs, sugar, vanilla sugar and milk.
4
Grease the pie dish with butter and arrange a layer of bread, butter side up, in the bottom of the dish and then add a layer of raisins. Add alternate layers of bread and raisins, finishing with a layer of bread, until the bread has been used up. Pour the egg mixture evenly over the prepared bread layers, allow to stand for 5-10 minutes. Sprinkle with raw sugar.
Baking
Bake for 45-55 minutes in the lower half of an oven pre-heated to 170°C. Serve hot, lukewarm or cold according to taste.
Suggestions
Can be served with apple or pear compote or berries. Sprinkle with icing sugar according to taste.
Source:
IG Dinkel, Judith Gmür-Stalder