PureSpelt muesli (vegan)
Preliminary time: Soak overnight
Preparation time: approx. 35 minutes
to serve 4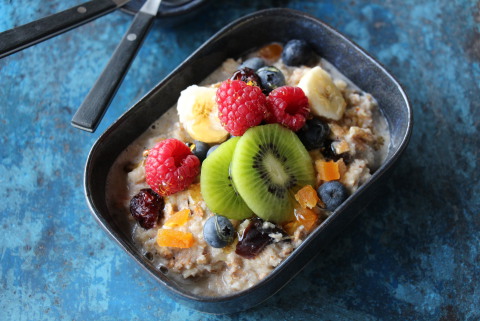 PureSpelt milk
50 g of PureSpelt kernels
4 dl of water
Muesli
100 g of PureSpelt flakes
2 apples peeled and grated (if available, using a muesli grater)
4 tablespoons of grated hazelnuts
3 tablespoons of almond butter
300 g of diced fruit according to taste, e.g. raspberries, strawberries, kiwi and bananas
3-4 tablespoons of dried bilberries, raisins or dried apricots, finely diced
Raw sugar or concentrated pear juice according to taste
A few drops of lemon juice

Fresh strawberries or pistachio nuts for decoration
1
Soak the PureSpelt kernels in the water overnight.
2
Pour all of the ingredients into a very powerful blender and blend for 3-5 minutes to form PureSpelt milk; use as desired while it is fresh.
3
Muesli: Mix all the ingredients with the PureSpelt milk, allow to soak for a short time. Distribute the muesli evenly between the bowls, decorate with strawberries, pistachio nuts or other fruits.
Suggestions
For an even more nourishing milk, allow the kernels to soak for a further 2-3 days, rinsing them well every day with fresh water. Then blend the kernels with the water (as described above) and use as desired. Almond butter can be purchased in drugstores, pharmacies or health food shops. If desired, the muesli may be diluted using fruit juice.
Source:
IG Dinkel, Judith Gmür-Stalder