PureSpelt pops ice cream popsicles
Preliminary time: 6 - 8 hours for freezing
Preparation time: approx. 45 minutes
For 7-8 popsicles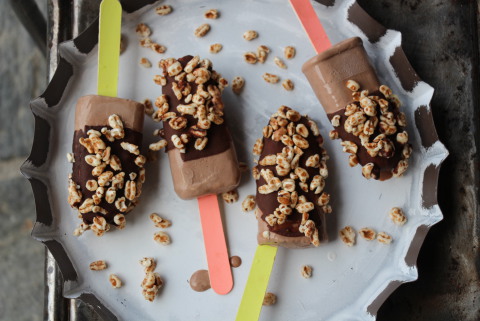 Chocolate ice cream
3 dl of double cream
75 g of dark chocolate, chopped
1 tablespoon of cocao powder
3 egg yolks
100 g of sugar
1 dl of double cream, stiffly whipped
Decoration
Melt two packets of dark chocolate cake icing, approx. 250 g, in accordance with the instructions on the packet
A small amount of PureSpelt pops (PureSpelt nuts) for sprinkling
1
For the chocolate ice cream, boil up the cream. Add the chopped chocolate and allow it to melt. Stir in the cocao powder. Mix together the egg yolks and the sugar and then while stirring continuously, add the chocolate cream. While stirring continuously using a whisk, bring the mixture almost to the boiling point and then pour it into a bowl. Cover the bowl and allow to cool.
2
Stir the chocolate cream until it is a smooth paste, fold in the whipped cream and pour the mixture into the moulds. Place the ice cream into the deep freezer for approximately 1 hour. Carefully insert a popsical stick into each of the forms and then deep freeze for 6 to 8 hours or overnight.
3
Before serving, hold the popsical moulds under cold running water for a brief time, carefully remove the ice cream popsicals and dip them into the cake icing. Immediately decorate the popsicles with PureSpelt pops and keep frozen until served
Suggestion
Instead of using wooden popsicle sticks, use teaspoons or twigs from a hazel bush.
Source:
IG Dinkel, Judith Gmür-Stalder