PureSpelt raspberry-roses muesli
Preliminary time: approx. 1 hour to allow PureSpelt flakes and seeds to soak
Preparation time: approx. 30 minutes
To serve 4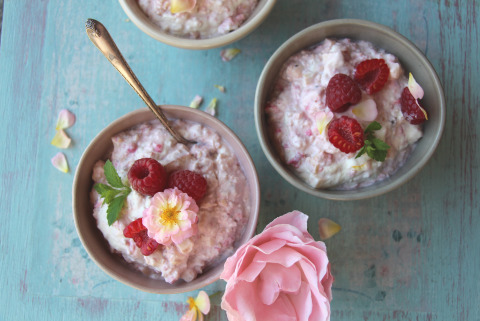 150 g of raspberries
1 tablespoon of lemon juice
3-4 tablespoons of rose water
100 g of PureSpelt flakes
300 g of plain yoghurt
3-4 tablespoons of sultanas or cranberries
1 red-skinned apple, grated
2-3 tablespoons of chopped almonds
2 tablespoons of linseeds or chia seeds
Approx. 1.5 dl of milk or almond drink
Honey, brown sugar or thickened pear juice according to personal taste
1.5 dl of cream, beaten until fluffy
Raspberries, freeze dried berries and rose petals for decoration
1
Place the raspberries, lemon juice and rose water in a mixing bowl, mash the raspberries using a fork. Add all the ingredients up to and including the honey and mix together thoroughly. Cover the muesli and place in the refridgerator and allow to soak for 1-2 hours.
2
Shortly before serving, fold the whipped cream into the muesli and then distribute evenly in desert serving bowls. Decorate with raspberries and rose petals or flowers and serve while fresh.
Suggestions
Depending on the season of the year, use other types of berries or add deep frozen berries to the muesli and leave to defrost.
Also sprinkle the muesli with PureSpelt pops according to personal taste.
Source:
IG Dinkel, Judith Gmür-Stalder