PureSpelt crepe-cake with plum compote
Preliminary time: Refrigerate: 5-6 hours or overnight
Preparation time: Approx. 1 hour
To serve 6-8, springform cake pan of 16-18 cm Ø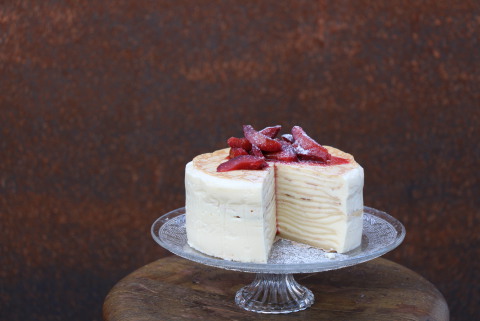 Crepes
140 g of PureSpelt half-white flour
75 g of sugar
1 pinch of salt
2.5 dl of milk
3 eggs
50 g of butter, melted and allowed to cool

A litle cooking butter or rapseed oil for baking
Filling
7.5 dl of milk
200 g of sugar
1 vanilla pod, cut open lengthwise
4 egg yolks
8 gelatine sheets, softened in cold water
2.5 dl of cream, beaten until stiff
Plum compote
600 g of plums, cut into wedges
100 g of sugar
The juice of 1 lemon
1 cinnamon stick

Icing sugar for dusting
1
For the crepes dough, mix together the flour, sugar and salt and then stir in the milk. Stir in the eggs and then add the butter. Cover the mixing bowl and leave for 30 minutes at room temperature to rise.
2
Filling: Place all the ingredients up to and including the egg yolks in a pan. Place over the heat and using a whisk, stir constantly until just before the mixture boils. Immediately pour through a sieve into a mixing bowl. Stir in the well squeezed gelatine sheets and then keep cool until the mixture becomes firm at the edge.
3
Using all of the crepes dough, bake 3-4 mm thick crepes and allow them to cool.
4
Stir the slightly solidified filling until it is smooth. Stir in the whipped cream.
5
Line the springform cake pan with baking paper or cling foil. Lay a crepe into the form and spread it with filling. Repeat this procedure layer for layer, finishing off with a crepe. Cover and place the cake in a refrigerator for 4-5 hours or overnight until it has solidified.
6
To prepare the plum compote, place all the ingredients in a pan and while constantly stirring bring to the boil. Over a low heat allow the mixture to simmer until it has reached a compote consistency. Allow to cool.
7
Directly prior to serving, remove the springform pan and place the cake on a serving dish. Decorate it with plum compote and dust with icing sugar. Serve in slices together with the remaining plum compote.
Source:
IG Dinkel, Judith Gmür-Stalder