PureSpelt lemon-poppy blinis with bananas
Preliminary time: 1-2 hours or overnight
Preparation time: approx. 30 minutes
Baking or cooking time: approx. 20 minutes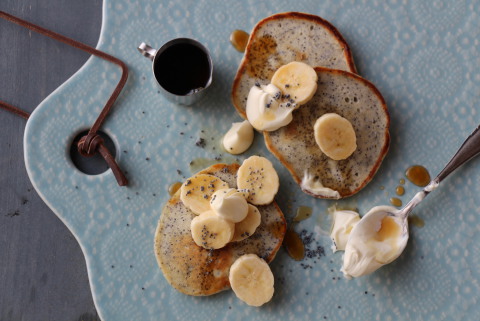 Blinis (Russian pancakes)
250 g of PureSpelt semi-white flour
50 g of poppy seeds
50 g of sugar
1/4 teaspoon of salt
15 g of yeast, crumbled
2 dl of milk
2 eggs
25 g of butter, soft
1/2 an organic lemon, grated rind (lemon zest)
Frying butter or rapeseed oil
Garnitur
2-3 bananas
3-4 tablespoons of orange juice
180 g of cream yoghurt, unflavored
1-2 dl of maple syrup, honey or concentrated pear juice (Birnel)
A small quantity of poppy seeds, for sprinkling
1
For the dough, mix together the flour, poppy seeds, sugar and salt. Stir the yeast into the milk and add to the mixture. Add the eggs, butter and lemon zest and stir until the dough is smooth. Cover and leave to rise for 1-2 hours at room temperature or overnight in a cool place.
2
Just before serving, cut the bananas into slices and toss them in the orange juice.
3
In portions of 1-2 tablespoons, fry the dough in a frying pan in the not too hot frying butter to form blinis. Place the blinis on a plate. Garnish with the marinated bananas, plain yoghurt, maple syrup and poppy seeds and serve while still warm.
Suggestions
- Replace the bananas with any fruit or berries.
- Fruit compote also goes well with these pancakes.
- Replace the yoghurt with quark, ice cream or whipped cream.
- Sprinkle with syrup as desired.
Source:
IG Dinkel, Judith Gmür-Stalder