PureSpelt cinnamon wafers
Preparation time: approx. 30 minutes
Baking or cooking time: approx. 20 minutes
For 8-10 servings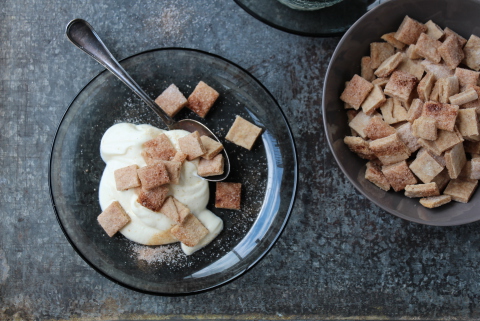 Dough
200 g of PureSpelt wholemeal flour
150 g of PureSpelt half-white flour
1/2 teaspoon of salt
1/2 teaspoon of cinnamon
1 pinch of baking powder
125 g of butter, cold, cut into pieces
1 dl of cold water
2 teaspoons of vanilla extract or vanilla sugar
Cinnamon sugar
2 teaspoons of ground or powdered cinnamon
100 g of sugar
50 g of melted butter
1
For the dough, mix together the flour, salt, cinnamon and baking powder. Add the butter and crumble to a fine consistency. Add the water and vanilla extract and combine briefly to form a dough; do not knead. Cut the dough in half and roll out each half on lightly floured baking paper to form a rectangular shape about 3 mm thick.
2
Mix the cinnamon and sugar together. Brush the dough rectangles with the melted butter, sprinkle with the cinnamon sugar and bake in the middle of an oven preheated to 200°C for 10 minutes. Remove the baking tray from the oven, cut the pastry rectangles into small cubes and spread them out a little, then finish baking the wafers for 8-10 minutes until crispy. Remove from the oven and leave to cool.
Suggestions
Immediately before serving, place the cinnamon wafers in bowls, serve with milk, yoghurt or quark and fruit according to taste.
Source:
IG Dinkel, Judith Gmür-Stalder