PureSpelt Date Granola
Preparation time: approx. 15 minutes
Baking or cooking time: approx. 30 minutes
For 12-15 servings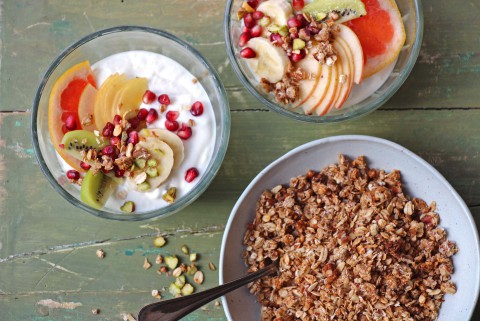 Granola
125 g soft dates (e.g. Medjool), pitted and halved
125 ml water, simmering
2 tbsp maple syrup or honey
3 tbsp peanut butter
1/4 tsp salt
1 vanilla bean, scraped
125 g PureSpelt flakes
125 g oats
50 g shredded coconut
100 g pecans, chopped
1
Pour the simmering water over the dates and let sit.
2
In a bowl, add the softened dates (including the water), maple syrup, peanut butter, salt and vanilla and puree until smooth. Add the rest of the ingredients, mix well, and spread onto a parchment-lined baking sheet.
3
Bake for about 30 minutes in an oven preheated to 150 °C (conventional) or 170 °C (convection), stirring frequently. Take out and let cool completely. Store in a dry place.
Tips
PureSpelt Date Granola can be enjoyed with yogurt and seasonal fruit. It's also great all by itself and perfect for snacking. Keeps for 3-4 weeks in a cool place, in an airtight container.
Source:
IG Dinkel, Judith Gmür-Stalder