PureSpelt Muesli Balls
Preparation time: approx. 20 minutes
Baking or cooking time: approx. 15 minutes
makes approx. 60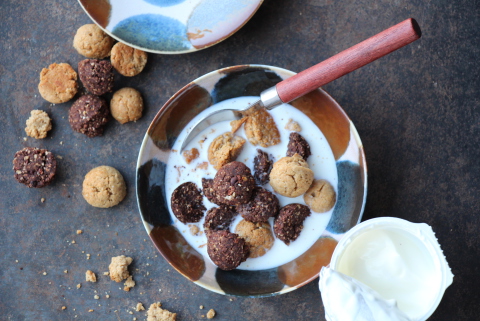 Peanut Muesli Balls
125 g PureSpelt flakes (not too finely milled)
1 tbsp cornstarch
40 g maple syrup or Birnel (pear syrup)
75 g peanut butter
2 tbsp rapeseed oil
5 tbsp milk
pinch salt
Chocolate Muesli Balls
125 g PureSpelt flakes (not too finely milled)
1 tbsp cornstarch
2 tbsp cocoa powder
50 g maple syrup or Birnel (pear syrup)
75 g almond butter
2 tbsp rapeseed oil or whipping cream
6 tbsp milk
pinch salt
4 tbsp cocoa nibs

milk, yogurt, fruit, nuts, seeds as desired, to serve
1
Peanut muesli balls: mix all the ingredients well, then briefly let rest. Using a mini ice cream scoop or two spoons, form approx. 30 balls and place them on a parchment-lined baking sheet.
2
Chocolate muesli balls: Prepare as the peanut muesli balls, see above.
3
Baking: Bake the muesli balls in the middle of an oven preheated to 180 °C for about 15 to 20 minutes. Remove from oven, let cool, then store in a dry and cool place until use.
Tips
The PureSpelt muesli balls keep in a cool and dry place for about 2-3 weeks. They are also great for a snack in the office, after sports, or for a mid-morning or mid-afternoon snack.
Source:
IG Dinkel, Judith Gmür-Stalder