PureSpelt Salted Caramel Granola
Preparation time: approx. 20 minutes
Baking or cooking time: approx. 15 minutes
Makes 10-15 portions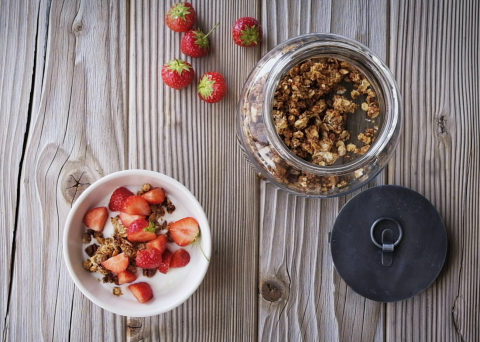 Granola
150 g soft dates, pitted
150 g PureSpelt flakes (or a mix with rolled oats)
50 g shredded coconut
75 g mixed nuts e.g. almonds, peanuts, hazelnuts, chopped
2-3 pinches sea salt
To Serve
yogurt, quark or milk
seasonal fruits or berries e.g. sliced strawberries
1
Soak the dates in hot water, then strain well. Using a food processor, puree the dates, then add the rest of the ingredients. Spread over a parchment-lined baking sheet.
2
Bake the granola for about 12-15 minutes in the middle of an oven preheated to 180 °C, stirring often. Remove and let cool.
3
Shortly before serving, place the yogurt, quark or milk in a bowl, sprinkle the granola over top and garnish with berries or fruit.
Source:
IG Dinkel, Judith Gmür-Stalder