PureSpelt Baby Food Fruit Puree
Preparation time: approx. 15 minutes
approx. 1 serving, from 5-7 months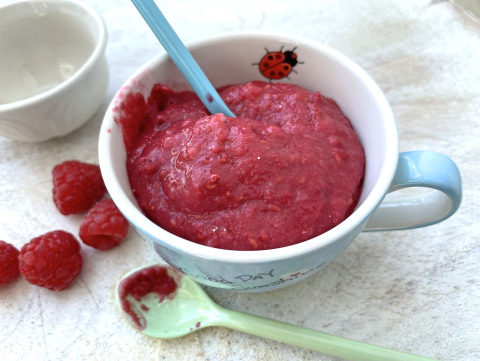 approx. 160 ml water
20 g PureSpelt wholegrain flakes (Flocken), or semolina (Griess)
100 g ripe, seasonal fruit, e.g. raspberries, apples, pears, blackberries, apricots, peaches, or plums
1
Bring the water to a boil and, while constantly whisking, add the semolina. Shut off the stove and let the mixture simmer, still on the heat source, stirring frequently.
2
Depending on the fruit, peel, grate finely, or mash with a fork, then stir into the puree (cooled to body temperature). Depending on your desired consistency, thin with a little water. Serve immediately.
Tips
Ideally the apple should be added as unsweetened applesauce. Finely grated fresh apples can have a constipating effect.

If you are using flakes and they are too big, first grind them in a food processor or puree everything once it is cooked.

Look for organic quality grains and fruits.

You can also cook the puree in larger batches, let it cool and then store, covered in the refrigerator. Once the puree has been warmed up from the fridge, it cannot be cooled and stored again. Keep unused puree covered in the fridge and add the fruit and a little warm water shortly before serving.

Do not add any milk products during baby's first year (e.g. milk, yogurt, quark etc.).

The puree is not sweetened.
PureSpelt semolina (Griess) and PureSpelt flakes (Flocken) are available in mill shops, health food stores, some drugstores or in our
Onlineshop
.
Source:
IG Dinkel, Judith Gmür-Stalder