PureSpelt Nectarine Tart Tatin
Preparation time: approx. 30 minutes
Baking or cooking time: approx. 18 minutes
makes 4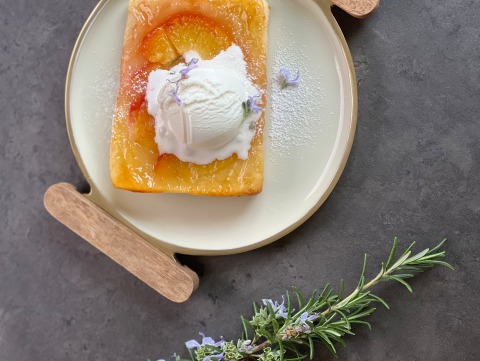 Dough
250 g PureSpelt puff pastry, homemade or bought
a little PureSpelt flour for rolling out
Topping
4-8 tsp liquid honey
rosemary, needles and flowers, if desired
4 flakes of butter
2-3 nectarines, sliced
Garnish
some icing sugar
4 scoops ice cream, e.g. Fior di latte
rosemary flowers, if desired
1
Using a little flour, roll out the PureSpelt puff pasty to an approx. 14 x 36 cm rectangle. Cut this into four rectangles sized approx. 9 x 14 cm. Poke the bottoms with a fork and place somewhere cool.
2
On a parchment-covered baking sheet, place four equal pools of honey. Place the rosemary and butter on each pool honey, then layer the nectarines on top, and finally the four pieces of puff pastry, pressing the edge all around.
3
To bake: Bake for 15-18 minutes in the bottom half of an oven preheated to 200 °C. Remove from the oven and cut the parchment paper between the four tarts so that they are separated. Flip them out onto dessert plates and garnish with icing sugar, ice cream and edible flowers. Serve immediately.
Tips
Instead of nectarines, you can use other fruits like apricots, plums, peaches, apples or pears.
You can substitute ice cream for quark, whipped cream or crème fraîche.
Click here for the recipe for PureSpelt puff pastry.
Source:
IG Dinkel, Judith Gmür-Stalder